Home » µTorrent®- Torrent Downloader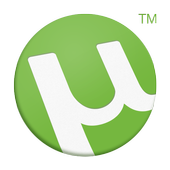 µTorrent®- Torrent Downloader
The Description Of µTorrent®- Torrent Downloader
µTorrent is the official BitTorrent android torrent downloader. Enjoy awesome torrent downloading experience with no download speed or size limits.
µTorrent downloads files at high speeds using the BitTorrent hyper distribution communications protocol for peer-to-peer file sharing ("P2P"). Splitting the downloadable file into multiple parts and employing multi threading through seeding helps you download music, movies and video files many times faster.
uTorrent is the unbeatable #1 Android torrents downloader in the Google Play Store with over 100 million downloads.
Fast, light, and powerful: that's the core of our torrent download technology. The uTorrent app reflects that. We developed uTorrent downloader around your mobile download needs.
♣ Beautifully light, clean design
♣ Simply download files directly to your phone/tablet
♣ Share files & torrents with ease from your phone/tablet.
♣ No download speed limits and no torrent download size limits
♣ Better music listening and video viewing experience with integrated music and video players
♣ Translations in Pусский, Español, Italiano, Português do Brasil
♣ Download free music, movie and videos from BitTorrent's Bundle licensed content partners
New Users
♣ Look out for magnet links and click on them when searching for torrents online.
♣ Downloaded more than one music file in a torrent? Play them all at once as a playlist
♣ Select files to download within a torrent to minimize your storage footprint
♣ To get the best performance and avoid running up your data charges on mobile movie & music download, we recommend taking advantage of torrenting and seeding on Wifi-only mode whenever possible
Advanced Features
♣ Wi-fi only mode to save on mobile data
♣ Choose your file download location
♣ Download torrents and download magnet links
♣ Choose between deleting torrents only, or torrents & files
uTorrent is pleased to announce a version 4 for the most downloaded torrent app on the Playstore. Version 4 represents a significant transition to a new core architecture paving the way for major developments to come.
Version 4 has been a true labor of love as the uTorrent team pushed hard to optimize version 4 for better performance, faster downloads and for a more user centric mobile torrenting experience
Users love free music downloads and watching videos/movies online. And the 2 million plus 5 star reviews are testimony of their confidence in uTorrent.
Upgrade today to enjoy the world's best torrenting experience on the go!
Looking for answers to frequently asked questions (FAQ) or a guide to get started with your downloads? Visit this page: http://bit.ly/1kx19Zt
Like us on Facebook: http://www.facebook.com/utorrent
Follow us on Twitter: http://twitter.com/utorrent
By downloading or using uTorrent – torrent downloader app, you agree to the Terms of Use (http://www.bittorrent.com/legal/terms-of-use) and Privacy Policy (http://www.bittorrent.com/legal/privacy)
Your feedback is very important to us. Please email us directly at
[email protected]
if you have any problems with your download, or any requests for the team. Thank you in advance.
Enjoy an ads-free experience with the Pro version of this downloader app -- now with auto-shutdown and battery saving preferences. Check out µTorrent Pro: http://bit.ly/1fuF34P
Upgraded to Pro in-app, and wondering how to get Pro back? Just re-download the free app-- it will turn into Pro on its own.
Looking for a torrent remote control for your uTorrent download client on your home computer? Check out µTorrent Remote for Android: http://bit.ly/TZrpvg
**Beta Testers Wanted**
We are launching Torrent streaming!
Please help us test this beta feature by signing up here: https://play.google.com/apps/testing/com.utorrent.client
Brought to you by the µTorrent mobile team
--Light. Limitless. µTorrent® for Android.
bit torrent скачать торрент
µTorrent®- Torrent Downloader Additional Information
Requirement:

Android 4.1+
Post a comment below
There are no comments yet.
Authentication required
You must log in to post a comment.
Log in