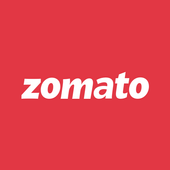 The Description Of Zomato
Zomato lets you search for and discover restaurants to eat out at or order in from. Browse through restaurant menus, photos, user reviews and ratings to decide where you want to eat, and use the map feature to guide you there.

If you are in India, UAE, or Lebanon, you can also order food online for delivery, with thousands of great food delivery restaurants to choose from.

Features:
* Search easily for Restaurants, Cafes, Pubs and Bars by location, cuisine (e.g. Chinese, Italian, Indian),name (e.g. Starbucks, Domino's Pizza, Amaya).
* Explore every restaurant in your city, including the ones near your current location, and use search filters to find the one that suits you best.
* View menus, pictures, phone numbers, directions, user reviews, and all the other information you need to choose a restaurant for Dine Out, Food Delivery, Nightlife, or Takeaway.
* Browse our theme-based curated lists to discover places for the best burgers, perfect date spots, or the top trending restaurants.
* Rate and review restaurants you've been to, and share photos of your foodie moments directly from the app.
* Maintain an easy reference list of your favorites or places you want to visit with Bookmarks.
* Use the map view to explore restaurants around you, or draw a circle to search in a specific area.
* Find and follow your friends to see where they're eating and what they like.
* Journal the restaurants you eat at using your Dineline.
* In-app table booking (select locations) – you can view and book yourself a table at all partner restaurants.

Permissions Requested:
* Camera - To take photos of food and restaurants for reviews.
* Contacts - To get your Google account information for signing in Zomato via Google.
* Location - To identify your location and show the restaurants closest to you.
* Phone - To make calls to the restaurant directly from the Restaurant listing.
* SMS - To read OTP required for phone number verification while placing an Online Order.
* Storage - To store photos captured by you and to access photos to be published with your reviews.
* Phone state - To identify cellular network information for optimising performance on low bandwidth network.


Zomato is now available in over 10,000 cities across India, the
USA, Australia, the UK, UAE, Canada, Ireland, New Zealand, South Africa, Portugal, the Philippines, Indonesia, Turkey, the Czech Republic, Slovakia, Poland, Chile, Italy, Lebanon, Brazil, Sri Lanka, and Qatar. More locations coming very soon.

USA, Australia, and Canada – we were previously called Urbanspoon in your countries.
Zomato Additional Information
Requirement:

Android 5.0+
Post a comment below
There are no comments yet.
Authentication required
You must log in to post a comment.
Log in