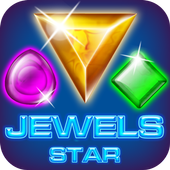 The Description Of Jewels Star
Another classic Match-3 game launch on Android Market.
Your mission is to win Jewels Star, pass the levels and try to get all stars in each level.

How to play:
1: Match 3 or more identical jewels.
2: Match the jewels until the board transparency,the Jewels star will appear.
3: Make the jewels star down to last line to pass the level.
Tips: Eliminate the jewels quickly can get extra scores.

Features:
- More than 350 levels and 8 pretty scenes in the game, including starry sky,mountains,snow world and so on.
- Match 4 jewels can win the jewel's bomb and 1 lighting.
- Match 5 jewels can win color-changing jewels and 2 lightings.
- Eliminate 20 jewels continuous can win 1 lighting.
- The jeweled bomb can eliminate the jewels around.
- The Color-changing jewel can eliminate to any other colored jewel.
- The Timing Jewel can extend the playing time.
- The lightning Jewel can eliminate jewels in one row.
- For the chained jewel,you can eliminate the jewels around to unlock it.
- For the frozen jewel,you can eliminate the jewels around to release it.
Jewels Star Additional Information
Requirement:

Android 4.1+
Post a comment below
There are no comments yet.
Authentication required
You must log in to post a comment.
Log in