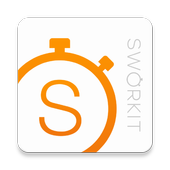 The Description Of Sworkit
Over 25 million people use Sworkit because it's the smartest workout app on the planet. You choose what kind of workout you want and how long you have, then Sworkit will show you exactly what to do. No more needing a gym, or weights, or excuses, just Sworkit.


Is it legit?

Yes, we were rated #1 by a recent study assessing fitness apps based on the parameters for safety, stretching, progression, and more set by the ACSM (American College of Sports Medicine). We've delivered over 50 millions workouts to people of all fitness levels.


What can we do for you?

• Get you started on a 6 week program to get "Leaner," "Fitter," or "Stronger." We have plans for beginners, intermediate, and advanced.
• Give you a huge database of body weight exercises. That means you can do these workouts from anywhere. No more travel or too busy excuses. You can even do a 5 minute stretch in the office.
• Provide the ability to make your own custom workout. That means you can make a workout with all of your favorite exercises, nothing you despise. Hello, motivation!


Who is this app made for?

We made this app with the whole purpose to be for anyone who needs an easy solution for fitness, without the complicated exercises and overpriced guidance, we encourage everyone to find what they love in the app and thrive. So that means it's for you, your family, your friends, your teacher, your boss. It's for the traveler that needs energy, the new mom who can't make too much noise, and the dad who is realizing the dad-bod fad went out of style way too fast.

We also serve as a solution for Health + Wellness coaches. That's how awesome it is.
• Personal trainers
• Sports trainers
• Physical therapists
• PE teachers and more.

-------------------------------------------------------

Here are all the benefits of Sworkit that help you get in shape faster and more reliably than ever.
• Guided workout plans
• 200+ workouts and exercises
• Custom exercise intervals (H.I.I.T + Tabata)
• Unlimited custom workouts
• Ask a Trainer access
• Access to our Web App

Subscriptions to Sworkit are available through a monthly subscription for $14.99 USD and a yearly subscription for $89.99 USD. Each subscription is auto-renewing. Subscription applies to Sworkit Personalized Workouts

Let Sworkit help you make this the workout plan that sticks.
Twitter: @Sworkit
Facebook: http://facebook.com/sworkitapps
Instagram: @SworkitApps
Pinterest: https://www.pinterest.com/Sworkit
Sworkit Additional Information
Requirement:

Android 4.0.3+
Post a comment below
There are no comments yet.
Authentication required
You must log in to post a comment.
Log in