Home » Samsung Smart Switch Mobile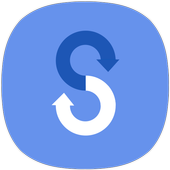 Samsung Smart Switch Mobile
The Description Of Samsung Smart Switch Mobile
▣ Smart Switch gives you the freedom to move your contacts, music, photos, calendar, text messages, device settings and more to your new Galaxy device. Plus, Smart Switch™ helps you find your favorite apps or suggest similar ones on Google Play™.

▣ Who can transfer?
• Android™ owners
- Wireless transfer: Android 4.0 or higher
- Wireless transfers from a compatible Android device to Galaxy device: Android 4.0 or higher (Note that non-Samsung devices with Android versions lower than 6.0 can only connect with Galaxy devices that support a mobile AP.)
- Wired transfer: Android 4.3 or higher, charger cable, and a USB connector

• iOS™ owners - use the option that's best for you:
- Wired transfer from your iOS device to your Galaxy: iOS 5.0 or above, iOS device cable (lightning or 30 pin),and a USB connector
- Import from iCloud™: iOS 4.2.1 or higher and Apple ID
- PC/Mac transfer using iTunes™: Smart Switch PC/Mac software – Get started http://www.samsung.com/smartswitch

• BlackBerry™ owners
- Wireless transfers: BlackBerry OS 7 or 10 (Mobile AP)
- Wired transfer from your BlackBerry device to your Galaxy: BlackBerry OS 7 or 10 for transfers via USB connector

• Windows™ Mobile owners
- Wireless transfers: Windows OS 8.1 or 10
* Note: For more information and step-by-step directions, go to http://www.samsung.com/smartswitch

▣ What can be transferred?
- Contacts, calendar(Device content only),messages, photos, music (DRM free content only, Not supported for iCloud),videos (DRM free content only),call logs, memos, alarms, Wi-Fi, wallpapers, documents, app data (Galaxy devices only),home layouts (Galaxy devices only)
- You can send app data and home layouts by upgrading your Galaxy device to M OS (Galaxy S6 or higher).

▣ Which devices are supported?
• Galaxy: Recent Galaxy mobile devices and tablets (From Galaxy S2)
* Note: For Galaxy S2, old OS (GB/ICS) version can cause incompatibility. If your S2 does not work properly, please try after firmware update.

• Other Android devices:
- HTC, LG, Sony, Huawei, Lenovo, Motorola, PANTECH, Panasonic, Kyocera, NEC, SHARP, Fujitsu, Xiaomi, Vivo, OPPO, Coolpad(DazenF2),RIM(Priv),YotaPhone, ZTE(Nubia Z9),Gionee, LAVA, MyPhone(My28s),Cherry Mobile, Google(Pixel/Pixel2)

* Note: For reasons such as compatibility between devices, it may not be possible to install and use Smart Switch on certain devices.
1. To transfer data, both devices must have a minimum of 500 MB free space in their internal memory.
2. If you are using a wired connection, your device must support a 'Transferring media files (MTP)' USB option to allow content to be transferred.
3. If you have a non-Samsung device that constantly disconnects from the wireless network, go to Advanced Wi-Fi on your device, turn off the "Wi-Fi initialize" and "Disconnect low Wi-Fi signal" options, and try again.
(The options described above may not be available, depending on your device manufacturer and OS version.)

※ Application permissions
The following permissions are required for the app service.
[ Required permissions ]
. Phone: Used to transfer call log data
. Contacts: Used to transfer contacts data
. Calendar: Used to transfer calendar data
. SMS: Used to transfer SMS data
. Storage: Used to save the files necessary for data transfer
. Microphone: Used for high-frequency audio when searching for Galaxy devices.
. Location: Used to connect Galaxy devices using Bluetooth.

If your system software version is lower than Android 6.0, please update the software to configure App permissions.
Previously allowed permissions can be reset on Apps menu in device settings after software update.
Samsung Smart Switch Mobile Additional Information
Requirement:

Android 4.0+
Post a comment below
There are no comments yet.
Authentication required
You must log in to post a comment.
Log in